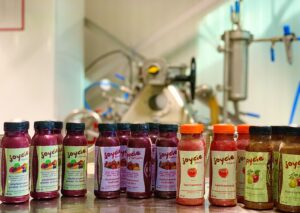 15 May 2023
What is the best way to preventively influence your health? The answer is to eat the right mixture of fruit and vegetables since 70% of our immune system is in our guts. If you eat 500 grams of fruit and vegetables every day you actively stimulate this system. That's where MiFood can help.
MiFood is a company that will develop and market healthy food available to everyone. MiFood has conducted a 3-year study together with Maastricht University to show that their product has a resistance-enhancing effect on the resistance to several lifestyle diseases (e.g. diabetes type 2, cardiovascular diseases and some non-genetic forms of cancer). This study has been completed with even better results than expected in terms of the resistance level and the speed at which it occurred. The company is now entering the global sales phase and is looking for a partner and/or investors to scale up the activities.
A minimum of € 1,000,000 investment is expected.
Interested to become part of this unique project? More information contact Mr Elwin Hulscher via: elwin@aznlhub.com and/or +31 (0)6 53 16 96 36.