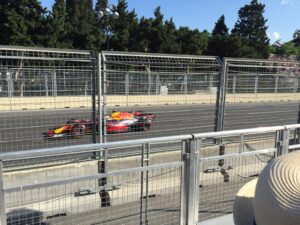 12 June 2022
The 5th Grand Prix Formule 1 of Azerbajian took place on Sunday 12th of June 2022. Max Verstappen wins for the first time at the beautiful Baku City Circuit.
Some history:
The first F1 Grand Prix to be held in Azerbaijan was the 2016 European Grand Prix, won by Nico Rosberg. A year later, in 2017, the same venue hosted the first Azerbaijan Grand Prix. The Baku City Circuit is a street circuit. Daniel Ricciardo won the first edition. The other winners are Lewis Hamilton (2018), Valtteri Bottas (2019) and Sergio Perez (2021).
The event is due to take place at the Baku City Circuit until at least 2026.